Wednesday, May 31, 2006
Sand between my their toes
Thought I'd give an update on what Martha Stewart Bob Vila Bubba has been up to.

Last night, he built the kids a simple sandbox. It's not quite done as he needs to make them seats in the corners and buy some more sand, but they are thrilled beyond thrilled. See?


posted by Angie @ 6:40 AM


Tuesday, May 30, 2006
Memorial day wrap-up
It was hot.

Well, ok, that wasn't ALL there was about Memorial Day. But, it may be the most memorable.

Waiting for the parade.



My boys in the shade.



That's Guard Girl in the 3rd row, looking behind her. She also had to march in her FLIP FLOPS because we threw away her guard shoes because she needs new ones for this summer season. At least she wasn't the only one. (see girl in front row.)




Drummer Boy (the boyfriend) third snare over. The tallest one.



Silly glasses.



So, that was a large part of our day. We watched the parade in the heat, then went to eat at Ryan's. My best friend from high school and her husband went with us. That was fun. Then I took Guard Girl to wal-mart to put some clothes in lay-away for her. NOTHING fit her right, so no lay-away. No new clothes.

But I did get these. :) (no comments about my sausage toes, please. I KNOW I don't have cute feet. I also know that I have fat ankles. I also know I can't paint my own toenails worth a dang.) But, aren't the slippers CUTE! I love purple. :)

posted by Angie @ 1:28 AM


Monday, May 29, 2006
Don't touch me!
Seriously. Don't touch me. I think every inch of my skin is sticky. Why, you ask? Because summertime has arrived officially here in the Hoosier state. It was 91 degrees today with about...oh, I don't know...250% humidity. Y-U-C-K!

Me and Bubba just got home from Wal-mart. This is the best time to go. I hate shopping when it is busy. Plus, I looked like crap so I didn't want to run into people I know. We were both so tired, though, we barely made it through to get what we needed.

Remind me to re-train Bubba to NOT make a circle through wal-mart to get to the food section. He puts way too much other stuff in the cart on the way.

Must go shower now...

Happy Memorial Day!
posted by Angie @ 1:09 AM


Sunday, May 28, 2006
Just for Scooter
This is just for SCOOTER because he can't ever stop by here and comment WITHOUT mentioning American "Karoake."




By the way, Scoot, he's 29, which is hardly OLD! Plus? Until I see an actual photo of you to take my mind off him, he's pretty hot..and I'd do him. ;)

Hee hee.



Scooter, stop being a TV and music snob. (I think you need to enjoy LOST for what it is and stop being so grumpy about it.) Oh, I have this theory about you, Scoot. I think that you REALLY secretly watch American Idol. You just don't want anyone to know. ;)

By the way, YES, my mission is to suck as a blogger. (though some would say I am already there.) :) Where's a red heart smiley when I need one??
posted by Angie @ 4:41 PM


I'm on a mission!!
I am determined to become the suckiest of all sucky blogs. My suckage will know no bounds. So..I give you....

Our new air conditioner...




I just want to be one of those blogs that the Blog Snobs complain about. "Nobody cares about your new air conditioner, lady! Or your kids. Or your life. Get a life and stop blogging for all our sakes!" Yeah, I've been reading a lot of that lately and like I said the other day, it's ticking me off. So let this be fuel for the fire..so to speak.

No, really, I AM in a good mood. I just feel like being sarcastic at the moment.

Now, off to help my kids clean their room. It's scary.

Happy Memorial Day weekend!
posted by Angie @ 2:52 PM


Random Photos Sunday
Here's my very own photo meme. Eh, not really. But here are a couple of random photos for your blog viewing enjoyment.


Tater and Baby J dressed for church. Notice how little brother would NOT stand next to his sister for the picture.



Bubba and I did go out last night. We didn't get to see a movie but we went to Scotty's Brewhouse first. They don't serve mixed drinks there so we went to Applebee's after for some dessert and so I could get a raspberry margarita. The all-time WORST margarita ever. Next time I'll go to Chili's. Their's are the best.




Happy Sunday, y'all!
posted by Angie @ 10:03 AM


Saturday, May 27, 2006
So humble
Remember my Thursday Thirteen where I was all.."My husband is great?" (if not, just scroll down because, yeah, it was the last post.) Anyway, the husband says, "I read your post. I AM pretty awesome, huh?" So humble, so modest. :)

I'm getting ticked off as I surf blogs lately. LOTS of bloggers complaining about things that suck in blogs. (and I'm not talking about auto play music or any of that obvious stuff that crashes servers and things like that) It's really ticking me off and I feel a big rambling post coming on soon. But not right at the moment.

I watched the Lost season finale last night. Whoa! That was good...and of course left us all hanging and anxiously waiting for the new season!! I STILL have to catch up on Grey's and Desperate Housewives. Maybe today I'll do that.

GG's at the Band/Guard car wash. Bubba is working out at the softball complex. It's just me and the kids today. I guess I SHOULD take them outside so they can play. I'm not really that nice of a mom, though. ;)

I think Bubba and I are going out to dinner and a movie tonight. Should be fun. I won't make a big hairy deal about it this time. However, I WILL say that we more than likely will NOT visit a Wal-mart tonight. ;)

Ok, enough rambling nothing. Just wanted to move the Thursday Thirteen down since it isn't Thursday anymore.

I'll leave you with a photo to contemplate...what do YOU think is going on here??


posted by Angie @ 11:05 AM


Thursday, May 25, 2006
Thursday Thirteen about Bubba
Thirteen Things about Bubba that Angie loves



If you are new here, Bubba is my husband.

1. He loves me no matter what. Seriously, another man probably would not have stayed with me this long!

2. He makes me laugh. Often and a lot. He's a big goofball. Even when I'm rolling my eyes because it's the same "joke" that he's been doing for 15+ years, he's still funny.

3. He loves our kids and would do anything for them and would kill or die for them I have no doubt.

4. He is a neat freak. Wait do I love this or not? If nothing else, I do know that HIS area of the house is always neat and spotless. Isn't it good to know that I can find his pens or a particular t-shirt? :)

5. His goofy laugh. You should hear him when he is really cracking up! (I have nipples Greg, can you milk me? That scene in "Meet the Parents" made him lose it.)

6. He can cook! (and I wonder why I am fat) He was going to go to culinary school years ago. Circumstances, you know. I think he should still go someday.

7. He is a stay-at-home dad. (Would that be a SAHD?) He likes it. He is much better at it than I would ever be.

8. He can dance. Boy can GET DOWN!

9. He kills spiders, cleans bathtub drains, cleans up puke and all the other gross jobs that I make ask him to do.

10. He is an EXCELLENT kisser! Like..feel it in your thighs good!

11. He always has me in mind and leaves me notes or buys me something little just because. He does this often.

12. He is faithful.

13. He makes me feel pretty even when I am having the ugliest of ugly days.

There are many more things I could list but these were some of the first ones to come to mind.

Links to other Thursday Thirteens!



Get the Thursday Thirteen code here!


The purpose of the meme is to get to know everyone who participates a little bit better every Thursday. Visiting fellow Thirteeners is encouraged! If you participate, leave the link to your Thirteen in others comments. It's easy, and fun! Be sure to update your Thirteen with links that are left for you, as well! I will link to everyone who participates and leaves a link to their 13 things. Trackbacks, pings, comment links accepted!

View More Thursday Thirteen Participants


posted by Angie @ 12:54 PM


Wednesday, May 24, 2006
The GRAND Finale
We're finally at the end of the road for American Idol. Now we just have to wait through 2 hours of fluff to get to the winner.

My prediction is TAYLOR to win it all. I do love me some Taylor, so I am fine with that. :)

ok...it's just minutes away....be back in a few...

It's SHOWTIME!

Very cool...Carrie Underwood sings with Taylor and Kat. "I Made It Through the Rain." Oh, it's the entire Top 12 all wearing white. Nice. It didn't sound cheesy.

Ryan talks about the judges. A montage of Randy saying "Dude" "Da bomb" "Wow" "America, we got a hot one right here!"

A montage of Paula and her embarrassing emotional moments.

A montage of Simon and his funny faces and concieted comments. :) Very funny.

Props to the band.

Views of their hometowns. Becky and Jessie O'Donahue hosting the Taylor's Hometown thing. It's HUGE! Tamyra Gray at Kat's hometown celebration.

Paris sings with Al Jarreau. They're singing "We're In This Love Together." Paris looks cute and sounds like Paris. Just how OLD is Al Jarreau, anyway?? Does anyone still know who Al Jarreau is? I mean, I remember him, but the young kids probably have no idea. Paris sounded really good.

Chris Daughtry!!!!!!!!!! He's singing with the band Live. Chris is LOVIN' it..and so am I!! AWESOME!!! I can NOT wait to get a Chris Daughtry CD! That was COOL!

Ryan cracks on Kellie Pickler. Now they are doing a little thing called "Puck and Pickler." Kellie is talking with Wolfgang Puck. Ha ha funny funny...they've milked the whole calamari thing way too much! Lame.

Oh...Kat sings with Meatloaf. "It's All Coming Back To Me Now." Oh my...poor Meatloaf was OFF at the beginning. Kat sounds and looks GREAT. Meatloaf sounds like...CRAP!!! He is throwing Kat off something awful!!!! Wow, thank goodnes THAT ended. Poor Kat! She couldn't win in that situation.

Great...Ryan trying to be funny again. "The First Annual Golden Idols." (Awards for some of the bad singers.) Outstanding Female Vocal/Outstanding Male Vocal. Jeez..they had that stupid guy from auditions (who they were stupid enough to let go to Hollywood) come out on stage and jump around acting a fool! He jumped right off the stage. THAT was ridiculous.

Couldn't we squeeze all this into a half hour show??

Please, just stop with the Pickler food skit.

Oh yeah! The boys get to sing together. They sounded pretty good together and my Taylor FINALLY got to play his harmonica!!! Woo Hoo!!! They sang "Taking Care of Business," "Tobacco Road," and "Don't Stop Thinking About Tomorrow." Chris looked HAWT! So did Taylor!

Cute Ford commercial with Taylor and Kat at the drive-in watching all the previous commercials. Cute.

Another Golden Idol Award goes to Elliott's mom for Greatest Family Moment or something like that. Bless her heart. She's so cute.

Elliott sings U2's "One Love" with Mary J Blige. They let her sing WAY too much of that song. Ugh. I think she just pulled a diva...she hogged the song AND the stage and practically ran off when it ended. Whatever. Poor Elliott. But he sounded really good!

Carrie Underwood sings "Don't Forget To Remember Me." She's come a LONG way from last year.

Randy Jackson "award" for public speaking. Rhonetta Johnson. That girl with the potty mouth who wore the short white skirt and tube top and the cameras followed her all over after her audition.

Taylor sings with Toni Braxton. "In The Ghetto." I don't know about you guys, but I couldn't hear Toni at all. She was singing so low it was inaudible! Taylor sounded great as usual.

The girls sing a medley that starts with "Man I feel Like a Woman" and ends with "I'm Every Woman." Get down Mandisa!! This just reminds me how much she should have stayed in the competition a LOT longer!

Golden Idol Award 'winner' for best impersonation given to Michael Sandecki. He was the guy who was nervous and "had to pee." They had him "sing!" Why?? Then...Clay Aiken made his appearance behind that kid, with longer DARK hair. And what was up? He sounded...ODD. But, did you SEE that kid's reaction to Clay?? I'm pretty sure he had a ....um....Clay-gasm.

Oh, now the finalists sing Burt Bacharach songs as Burt plays piano for them. It's a big medley and everyone looks GREAT! Not sounding too shabby, either. How about that Bucky singing "Raindrops Keep Falling On My Head??" hee hee Aww..Elliott. I hope he gets a good deal to make a record. CD. Whatever. :) Kevin Covais is on my last nerve. I'm sorry to be so mean. I can't help it. Ahhh....Chris. *sigh*

Dionne Warwick makes an appearance. Do you think all her Psychic friends knew she would be there?? :) Everybody sings with Dionne, "That's What Friends Are For."

All the girls look HOT in their red dresses.

Wow, I'm getting nervous. The results will be soon!!

Best Male Bonding Award--oh wow..funny. Chris and Ace, Ryan and Taylor and the Brokenote Cowboys. Wow..too funny. Those are the nominees. Gee..I bet little cowboy Garret Johnson shows up, huh?? The winners are...Brokenote cowboys. They're singing! Wow. "Mama's Don't Let You're Babies Grow Up To Be Cowboys."


OMG!!! PRINCE?!?!?!?

Seriously, Prince just performed on American Idol. No joke. Now that was cool.

Results next...oh my god...I am so nervous!!!

Taylor and Kat sing "I've Had The Time Of My Life." LOVE LOVE LOVE this song!!!! Kat looks GORGEOUS!!

Is it bad if I want to run my hands through Taylor's hair??

Ok, I think I'm going to pee my pants waiting..jeez...

63.4 millions votes last night.

THE NEXT AMERICAN IDOL IS.....TAYLOR HICKS!!!!!!!!

Ok, I have to tell you...my mother just called me...my 63 year old mom...called me whooping and shouting because Taylor won!! :) I swear she was crying and laughing. I LOVE Taylor!!! I can't wait to hear his new CD!!

Ok...a big sigh now that the season is over....ahhhhh..... I thought it was a great season. When does the next one start? ;)

(Is this my longest post ever?? :) Thanks to those who had a party in my comments tonight! The Taras and Walter!)

Oh oh oh...I almost forgot...

GTHOTS KATHARINE! (I still love ya, though.)
posted by Angie @ 7:58 PM


Tuesday, May 23, 2006
And then there were TWO....
Well, this is it, folks. Tonight is the last chance for Taylor and Kat to make one more impression for votes. Personally, I don't mind which one wins. I LOVE them both. I just really hope they sound good tonight!! I am so excited and I am not ashamed to admit it. :)

Five minutes to show time.

Here we go....

3 songs for each...

A Kat and Taylor montage of clips.

Commmercials...

A Chris appearance.

Kat sings "Black Horse and the Cherry Tree" LOVE this song and I loved her 1st performance of it. The box drummers are there with her again. She sounds HOT! Kat has definitely lost weight since the beginning. She looks relaxed. She sounds great. She looked natural to me...like she was having fun. Randy says she sang it better than the first time. Simon says, "Good with a small g." She looks like she will cry easily tonight. For her first song I give her....23/25.

Taylor sings "Living For the City." Look at that purple coat! He should unbutton it. I really like this song. He did such a good job the first time with this song. Taylor has this thing won on entertainment alone. He did GREAT. CLASSIC Taylor!! What else can I say? I give him.... 24/25.

Kat sings "Somewhere Over the Rainbow." She tore this song UP last week. Let's see how it goes tonight. She looks serious this time. So far, it sounds as good as last time. I do wish she had picked an upbeat song, but girl can SING! Excellent job, Kat! Bless her heart, she is so emotional tonight. I keep expecting her to just burst into tears. I give her 24/25.

Taylor sings "Levon." Ahh....Taylor starts out just right...soft...Taylor is doing it right tonight. Not too showy or dancey.(is that a word?) Awesome Taylor. I love him. The judges (Randy and Simon) didn't like it so much. I give Taylor this time....23/25.

I don't know if I'll vote tonight. I can't decide who to vote for.

Kat sings "My Destiny." A new song. This will be Kat's single if she wins. She looks beautiful. I like the song. Very nice. Not too cheesy. Pretty dress. It looks great on her. I wish I could wear something that tight! She's a little flat on the low notes, but otherwise, sounds right on. I wish they would have gotten to sing new songs all along. Pretty song. She did pretty well with it even with a few bum notes. I don't think this was the HUGE note to end on..but you can't deny she is good! I give her....22/25.

Taylor sings "Do I Make You Proud." Sounds like a slow one. A little flat and shaky to start. As the song picks up, he sounds GREAT! I can't say anything else about Taylor. He has this won. I give him 23/25.

Yep, I have to vote for Taylor. I just love him too much. Just that much more than Kat. Simon says Taylor just won American Idol.

Overall, a pretty good night of singing. They both did well with the "new" songs. Did what they could with the song they were given.

My prediction for who will win...Taylor Hicks.

It's been a great season!
posted by Angie @ 7:51 PM


Monday, May 22, 2006
A post about nothing that turned into me talking about tv too much
Work was busy today and I am PRETTY sure every single person who called was trying to get on my last ding dang nerve!


I'm still in the middle of a raging bad case of the blogger's block. I'm surfing some, though and visiting some of my favorite reads. I've been doing a lot of "Yeah! What he/she said!" while reading blogs, but I can't seem to come up with anything original or thought provoking. *SIGH* So, I'm posting this lame-o post and rocking out (in my mind) to "Slither" by Velvet Revolver and trying not to think about the INXS concert I am missing tonight. *double sigh*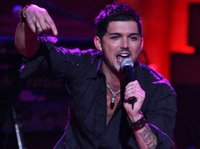 NO, I didn't win the tickets from the radio. Some other chick who I am SURE doesn't even know who INXS is, now is sitting in MY front row seat getting to look at JD Fortune's......eyeliner. What? You thought I would say something dirty? Shame on you!!
For those of you who think I'm crazy for liking the "new" INXS *cough*Scooter*cough*, I really don't give a crap. I saw them with Hutchens. They ROCKED! I want to see them now with the new guy (see above crotch shot). I'm not a music snob. I don't care if it's considered the best song or music of all time...if it makes me sing and dance and bob my head and smile...I like it. Scoff if you will..but I likes me some sexy rock stars.(I think I got the crotch shot from Rockband.com. You should check them out.)

Speaking of sexy rock stars...here's my *triple sigh* new favorite rock star..well, he soon will be, anyway.
I am still recovering from the grief of him leaving American Idol. I've almost made it through all the stages now. The only consolation is he will soon be recording some awesome NON-American-Idol-produced music and that will ROCK...much more than Bo Bice's CD sucked. As much as I hate the whole carrying around of the mic stand thing (think Constantine from last year), I do love me some CHRIS DAUGHTRY! Tell me, what will I blog about on Tuesdays and Wednesdays now that Idol will be over this week?? No more live blogging of the performance night. No more GTHOTS. (Oh, that reminds me, Big Brother starts soon. PERFECT!) Here's one more just for TARA.




Who watched the Will & Grace finale? LOVED it! One of the best finale shows I've seen in a LONG time. It was like the old Will & Grace I used to love from the first couple of seasons. They wrapped up the story pretty well and I managed not to cry. I want friends like Will & Grace & Jack & Karen!


The ER finale was good, too! Though it wasn't the series finale like Will & Grace. 3 big cliffhangers. I love a good cliff hanger! Jerry was coding, Abby was hemorrhaging (I think. well, she passed out anyway), and Luka was tied (handcuffed?) to a gurney in a dark room with a tube in his throat unable to yell for help!! That was almost too much for my heart to take. That on top of the emotional farewell to Neela's husband. It's good ER again.


**Possible LOST spoilers**
I've been TRYING to get caught up on all my favorite shows that I've been DVR-ing for the past few weeks. I'm STILL a GAG, Mitey Mite. I'm just so far behind, I haven't been able to talk about it. I plan to catch up with everything by the weekend. I also have to catch up on Desperate Housewives. BUT..I DID finally catch up on LOST and oh my gosh! I forgot how much I LOVE that show!!! I can't wait to watch the finale...which I will have to DVR because, hello? American Idol finale! :) One thing about Lost, though. I am so sad they killed off Libby right when Hurley was movin' in on her!! Supposedly some questions are answered in the finale. One good thing, I know they won't answer everything and will add more questions which just keeps me watching.

Ok, I should go. I was gonna mention the whole Britney Spears-Fed incident with "almost dropping the baby in public" but who HASN'T seen and heard about that?? Totally blown out of proportion if you ask me. But you didn't ask me so I'll shut up now.

Toodles.
posted by Angie @ 9:47 PM


Saturday, May 20, 2006
stolen meme
Hey, guys! I've been so blank of blog material. I haven't had inspiration to write lately AT ALL. So, today, I am going to do a meme. I know, they are boring, but I feel like if I can at least get something posted, maybe some good stuff will come to me.

I stole this one from kinkyboots who I see all the time when I am surfing on BlogMad.

I don't think it has a name...so here's my Sunday Meme.


1. My ex is still: I have no idea. I haven't had an ex in 17 years at least. I can't even remember the last boy I went with before I married hubby. Most, if not all, of my exes are married with kids I think.

2. I should have: Gone to a 4 year college and gotten a different degree so I would have an actual career that makes more money.

3. I love: when the house is quiet with no TV or radio on and I can do what I want. Of course I end up blogging or surfing blogs.

4. I don't understand: why I can't make the committment to become thinner and healthy. I fail every time I try.

5. I lost: touch with almost all my friends from high school.

6. People say I'm: beautiful poised sexy fun to be around Heck, I don't know. I'll have to ask those "people."

7. Love is: seeing me with a white moustache of hair remover on my top lip...and STILL wanting to kiss me.

8. Somewhere, someone is: having it worse than the worst thing I have ever complained about.

9. I will always: be young at heart.

10. "Forever" is: is not so long if spent with the right person.

11. I never want to be: alone.

12. I think the current president is: pretty hot for an older man. I still like him and I'm glad I voted for him and NOT Kerry!

13. When I wake up in the morning: I jump up and get in the shower because I usually wake up late after having pressed the snooze button too many times.
posted by Angie @ 12:32 PM


Friday, May 19, 2006
Internet Woes
MAJOR Comcast outage in Indiana yesterday and last night...so...I couldn't blog. Ha, I didn't have anything to say anyway. I couldn't even come up with a Thursday 13! Anyway, Jus thought I would give you all something else to read besides my American Idol crap.

TGIF!!!
posted by Angie @ 6:52 AM


Wednesday, May 17, 2006
GTHOTS!
For the 2nd to the last time...it's once again GTHOTS night. Who will go home? We have to wait a frickin HOUR to find out! Jeez, they drag this stuff out!

The Ford commercial was hilarious. They "rapped" "Young At Heart." They were all made up to look elderly. Funny!

Taylor's visit home...fanfare...

Taylor sings "Takin' It To The Streets."

Kat's visit home...fanfare... Kat's performance of "Think."

So far both Taylor and Kat sounded great with no pressure on them to be the best.

Elliott's visit home....fanfare...what a nice guy. He is very humble. I like that. Not that the other two weren't gracious and humble. Bless his mom's heart. She just cried as they drove down the street and all the fans were screaming. Awww...Elliott is crying now too, on the show. I'm a sucker for a crying man. :)

Elliott sings "Moody's Mood For Love." He does this song REALLY well!

Why does this silly show make me so nervous???

A plaque presented to Clive Davis for over 33 million sales worldwide. *yawn*

Here is how they broke down the 50 million votes.

33.68%
33.26%
33.06%-Elliott

GTHOTS ELLIOTT! Wow! It was close, but he's going home. I hope he gets a recording deal! Elliott is so sweet.

And then there were two...

I think Taylor has it in the bag.

Until next week...
posted by Angie @ 9:04 PM


Tuesday, May 16, 2006
Top 3 sing 3
Is it time for the Top 3 already?? Weren't they just showing the bad auditions last week??

Anyway, we are down to the final 3 on American Idol. Taylor, Kat and Elliott. Tonight, they sing 3 songs each. A judge's pick, a Clive Davis pick and a pick of their own. Who will shine?? Let's find out...

I am nervous! Should I even admit that to anyone??

They just showed Roseanne with her son in the audience.

Ryan. Please shave!

Ode to Clive...

Elliott sings "Open Arms" by Journey. Oh boy. Clive said, "Kill 'em this week." We'll see. I don't think this was best song choice on Clive's part. Elliott did well with it, but it didn't blow me away. Don't get me wrong, he wasn't bad...just not GREAT. He looked uncomfortable. I give him 20/25.

Kat sings "I Believe I Can Fly." She looks gorgeous. I didn't like the song choice. What is Clive thinking?? Randy said the song choice wasn't good and Kat said, "I didn't pick it!" You GO girl! She sang it well. She sounds hoarse and I think it was hard for her to hit some of those notes. But for that song, it was GOOD! I give her 20/25.

Taylor sings "Dancing In The Dark." Song choice again....COME ON TAYLOR...bring it!! Poor Taylor. Not a great song choice! But Taylor does what Taylor does! He did a really good job with what he had to work with and I love me some Taylor. He danced a lot and danced with Paula so he had some fun. I give him 22/25.

Elliott sings "What You Won't Do For Love." I don't know this song. Oh..yes I do. :) I didn't recognize the title. Paula picked this song for him. This is much more in the style of Elliott. He sounds and looks much more comfortable. I give him 21/25.

Kat sings "Somewhere Over the Rainbow." Weird song choice from Simon. Kat starts out on the floor.(and stayed on the floor.) Just a guitar to accompany her. She sounds great. It really is a perfect song for her. And? It doesn't sound straight from Oz. Excellent!! I give her 24/25.

Taylor sings "You Are So Beautiful." Randy chose this song for Taylor. This could be awesome...let's see. Cold chills. He could totally sing this song to me! He started out with the perfect amount of soft! :) I LOVE Taylor! I give him 22/25.

Elliott sings "I Believe To My Soul." A Ray Charles song for Elliott's own pick. The low notes aren't sounding great. He picked a decent song. I'm just not feeling Elliott tonight. I don't think he really shined tonight. However, it was an ok performance and I give him 21/25.

Kat sings "I Ain't Got Nothin' But The Blues." HOT go-go boots! How fun! What a great song for her! She knows her own voice and her own style! I LOVED the performance but the judges were not kind. Oh well. I give her 22/25.

Taylor sings "Try A Little Tenderness." GREAT song!! I can't hear this song without seeing Duckie Dale on "Pretty In Pink." :) Taylor is doing it for the SOUL PATROL! I love it...GO TAYLOR! I give him 24/25.

Overall, it was a decent night. Some bad song choices, but I think they all made the best of what they were given.

If I HAVE to choose...I will say Elliott is going home. Taylor has not worries..he's staying.

Can't wait til tomorrow. See you then...
posted by Angie @ 7:51 PM


Mother's Day Booty
No, not THAT kind of booty! Here's the loot I got besides my Flickr pro account.


posted by Angie @ 7:34 AM


Monday, May 15, 2006
Lazy Ramadi
Ok, you've all seen the Lazy Sunday video from SNL, I'm sure. There have been several others from the West Coast and other places as well as one from my hometown called, "Lazy Muncie." Here's one from a couple of guys who Bubba and I went to high school with. It's pretty dang funny. Enjoy!


posted by Angie @ 12:31 PM


What You I Need!
I just qualified on the radio to win front row...FRONT ROW INXS tickets!! Woo hoo! I would LOVE to go! Notice how I said qualified to win? That really means, WON'T win. A girl can dream. (and dreaming of JD Fortune ain't bad!)
posted by Angie @ 11:39 AM


Well, THAT was anti-climactic
***SURVIVOR SPOILER ALERT***




Aras won. *yawn* I still love the show, but man I wanted Cirie to be in the final 3 at least. She DID win a car at the end, so that is good. At least Shane didn't act like a total weirdo. I kind of liked him at the reunion show. I kinda don't like Terry anymore. He was just a little full of himself.

Ok, that's all. I haven't talked much about Survivor all season, but I just had to weigh in on the finale.

More later...

Happy Monday!
posted by Angie @ 10:54 AM


Sunday, May 14, 2006
Happy Mother's Day!!
To all the mothers who happen by here today, I wish you a wonderful day!!!


posted by Angie @ 10:02 AM


Saturday, May 13, 2006
She got her smarts from ME! ;)
Friday was the academic awards ceremony for underclassmen at Guard Girl's school. I had to work, but stay-at-home dad, Bubba got to go. She got several awards and SHOULD probably bring home all A's again this time. Here's a couple of (bad) pictures. Please ignore the poor quality and the spots on our sucky camera.




This is what Tater thought of the whole thing...

posted by Angie @ 9:55 PM


Friday, May 12, 2006
Mother's Day Flickr
Here's the email I got today...(the important line is in bold)

Hi angiedi70!

bubba78nt has just purchased a Flickr Pro Account for you!

Your new Pro Account is set to expire on 12th May, 2007.
(You don't have to do anything to activate your Pro
Account. It's all automatic.)

Having a Flickr Pro Account means you now have 2GB of
bandwidth to use each month to get your photos on Flickr,
and you can create as many photosets as you need.


Regards,
The Flickrites


Isn't my husband GREAT??? This is my Mother's Day Gift. Does he know me or what?? (either that or he is tired of hearing me whine about not having a pro account...)
posted by Angie @ 9:32 PM


Thursday, May 11, 2006
Thursday Thirteen
Thirteen Random Things about Angie's Life



1. I'm feeling a lot of pressure to come up with an actual list of 13 things like previous weeks. This week, that's not going to happen. This week you get random thoughts from my head.

2. Did anyone happen to watch the Series Finale of 7th Heaven? I used to watch the show pretty regularly and had gotten away from it recently. I thought I would watch the finale because, well, series finales always make me cry and dang it, I felt like a good cry! BUT....could that have been more cheesy and far-fetched?? Seriously, if you watched it, let me know what you thought.

3. I keep forgetting to update you guys on Guard Girl's finger. She did see the doctor and she chipped her bone. I KNOW! Ouch! There isn't anything to do about it, though, besides splinting it. Her finger will eventually stop hurting. :)

4. Mother's Day is coming up. I told Bubba not to get me anything because he is a MUCH better mother than I. I think he got mad.

5. I was Blog of the Day one day last week on BlogMad. Yay me!! :)

6. Bubba left a hickey on my neck a week or so ago. A HICKEY! I tried to take a picture but it didn't turn out. A hickey, people. Thank goodness it was small-ish and no one noticed.

7. I want a little dog like a Yorkie or something. I'm pretty sure my roughhouse heathens would injure it severely. Accidentally, of course.

8. I saw in a magazine that the show Wings is out on DVD now. I REALLY want that. It has sort of special meaning for me and Bubba. I wouldn't be able to explain it, really.

9. I've had to work from 9:30 to 6:00 all this week. I like getting to sleep a little later, I do NOT like getting off work so late. That last hour DRAGS by.

10. Why does my chin think it needs to be Acne Central ALL. THE. TIME.??

11. I got called "smarmy" "ridiculous" and "just plain weird" over on the Idol site where I hang out. Isn't that just sweet?

12. My youngest daughter (4 years old) called me "Big Mama" today. Nice. Pass the lettuce.

13. My son just gave us all a heart attack by falling down the stairs. He erupted in blood curdling screams and I just KNEW he broke a leg or something. Turns out, he "hurt" his finger. HAD to have a band-aid (pronounced bond eyed..sort of sounds australian with a British spin. Seriously, you should hear him say it.)but now he is fine. (I PROMISE to have a better 13 next week!)

Links to other Thursday Thirteens!



Get the Thursday Thirteen code here!


The purpose of the meme is to get to know everyone who participates a little bit better every Thursday. Visiting fellow Thirteeners is encouraged! If you participate, leave the link to your Thirteen in others comments. It's easy, and fun! Be sure to update your Thirteen with links that are left for you, as well! I will link to everyone who participates and leaves a link to their 13 things. Trackbacks, pings, comment links accepted!

View More Thursday Thirteen Participants


posted by Angie @ 8:57 AM


Wednesday, May 10, 2006
Top 4--Who will have to GTHOTS??
We're down to 4...and soon there will be 3. Who will go tonight??

I forgot to name my bottom and top last night. With only 4 left, it's hard. In order, I liked Taylor, Chris, Katharine and Elliott.

Tonight, Kat may go home. Maybe..a big maybe, Elliott.

Recaps...

Kat looks VERY nervous. I don't want her to go!!

CUTE Ford commercial...including Kermit the Frog. :)

Showing more clips from their Graceland visit.

Group song...Elvis medley... "Don't Be Cruel" featuring Elliott. Go Kat!! She's dancing. Blue Suede Shoes...Heartbreak Hotel...Are You Lonesome Tonight feat. Kat...They actually sound really good! "Love Me Tender" feat Chris. *sigh* More songs..can't keep up. :)

Whoa..Taylor gets to sing on Rebecca Romijn's request. (gee..was that set up or what?) He sounds even better tonight!! I LOVE Taylor!!!

Ryan put Taylor and Elliott on one side..and Chris and Kat on the other. Then, he said, who is the bottom 2? I think it's obvious. Chris and Kat will be the bottom 2. We'll find out....After the break.

SAFE: Taylor and Elliott
Bottom 2: Chris and Katharine

gthots...Chris... :(

I am completly blown away!!!!!!!!!!!!!!!!

I shouldn't be this into a show like this..but I am. I shouldn't like these singers as much as I do, but I do. Seriously, Chris is gone and I am shocked. And sad. I hope it is a Taylor/Kat Finale now. It's not that I hate Elliott, but, I like the other 2 better. *sigh* Not much else to say. Tara...you got it right..crazy ass Americans!! :) But..I'm going to the concert..so I will get to see Chris LIVE!! :) But..that also means I have to suffer through Pickler...and Chicken Little...

Ok, until next week...
posted by Angie @ 9:00 PM


Tuesday, May 09, 2006
Top 4--Elvis night
Well, we are down to the final 4 contestants on American Idol so tonight will be important for all of them. One bad song choice could mean the end.

I admit, I am excited and nervous going in to this. Yes, I get way too into this silly show. I can't help it!

Tonight's theme is "Elvis." Should be really good! I hope it is!

Here we go!

Taylor sings "Jailhouse Rock." Taylor was AWESOME!! He was completely in his element. Performance-wise it was entertainment to the extreme. Vocally, it was good. It's not really a singer's song, but he sang it well. I give Taylor a 22/25.

HA HA HA HA! Simon told Paula to shut up!! :)

Chris sings "Suspicious Minds." I'm lovin' the Elvis glasses on Chris! :) I love this song and he was REALLY good. He played it safe with the song, not going all crazy with it and it totally worked!! I loved it, of course. As usual, he was lookin' pretty HOT. He just keeps carrying that mic stand around like Bo andn Constantine used to do. I HATE that!! I give Chris 23/25.

Elliott sings "If I could Dream." I don't know this song but I like it. He sounded really good. Elliott doesn't change it up much, so he often sounds VERY similar with each song. The judges loved it. I missed a lot of it because my sister called right as he started singing. Still, I give him 21/25.

Katharine sings "Hound Dog/All Shook Up." Katharine is sooo freakin' cute!! A fun performance, but not her vocal best. Not horrible by any means at all. She got a little winded and forgot a few words, but still, a good performance. I give Katharine 21/25.

Well, after the 1st songs, I'd say it's not been a wonderful night vocally, but a very entertaining night so far.

Taylor sings "In The Ghetto." Taylor slows it down and gets soulful. Somehow, Taylor still manages to be Taylor even sitting down. The only thing I didn't like was his enunciation of ghetto. Ghet-toe. Bottom line, Taylor hit it with this one! Great! Perfect song for Taylor! As Simon said, he just sang his way into the finals. I give him 24/25.

Chris sings "A Little Less Conversation." Oh..yeah...a totally sexy song for Chris! How does he look so good in a simple white button down?? He sounded HOT! Stayed on key the whole time. Added his rock edge to it at the end. LOVED it! But when DON'T I love Chris?? I give him 24/25. (Chris? Mic stand? STOP!)

Elliott sings "Trouble." A cool bluesy number. Very different for Elliott and I like it a LOT. He was sweating by the end of that one! :) He stepped it up.I give Eliott 24/25.

Katharine sings "Can't Help Falling In Love." Katharine can always slow it down, I think. That last night was a bit off, but a really great performance. I don't think she should have done the slow one last. The first part of the song was REALLY good. The last part a bit, eh. Anyway, overall, I give Kat 22/25.

What a great night on Idol! If only all the other themed shows had been this good! Why couldn't we have skipped all the crap and just moved on to this point?? It would have made for a much better more enjoyable season! :) Can't wait to see who has to GTHOTS!!
posted by Angie @ 9:00 PM


Talkin....and posin...
I'm talkin' to my mom and my mouth never stops and I never shut up and I can think of something to say at any moment of any day and...




....HEY...mom's got the camera..."CHEESE!!!


posted by Angie @ 8:25 AM


Sunday, May 07, 2006
Quick! Someone call David Blaine!!
At first glance, Tater Tot appears to be the focal point of this photo. However, it's really all about the AMAZING LEVITATING FLAG!! Check it out on the left.





Here are a couple of BEFORES...spinning the rifle...




Here...is the AFTER...




Yeah, she gets to go to the doctor tomorrow to have her finger checked out. It's all kinds of purple and painful.
posted by Angie @ 8:24 PM


Saturday, May 06, 2006
Stolen Meme Saturday (or Saturday blog filler because my brain, she is empty)
I stole this meme from Whirled Peas one day when I was surfing BLOGMAD and I immediately thought it would both fill my blog space for a day...AND...bore you all to tears. Two for one deal..who could pass that up??



1) Who is the last person you high-fived? Probably one of my kids, but...most likely, the air. While I was doing my Thursday Thirteen about Seinfeld quotes and got to the "High Five" Puddy quote...yeah, that's it. The air.

2) If you were drafted into a war, would you survive? AH ha ha ha ha ha ha ha ha ha ha ha ha ha ha ha...

3) Do you sleep with the TV on? Not unless I fall asleep on the couch. It wakes me up. Now, when Bubba worked nights or back when he was gone working on the railroad, YES! I was a big old chicken and I had to have noise to drown out the people trying to break into my house.

4) Have you ever drunk milk straight out of the carton? First, what the heck is a carton? We only buy gallon plastic jugs. Second, the thought of drinking from the jug/carton makes me gag. Literally. Crusty milk? GAG!

5) Have you ever won a spelling bee? No, I got second place in the 6th grade. I missed "squirrel." I put two "L's." I was SO mad! (though I did get first in my class that year. Just not for the whole school.)

6) Have you ever been stung by a bee? Yes. Twice. Once on the sole of my foot when I was little. I stepped on it as I was walking across the yard. The second time, I was an adult and I got stung on the thigh. It turned into a HUGE round itchy place that covered my entire thigh. That made me think I am mildly allergic, if that is possible. So, now? PETRIFIED of bees. I nearly had a panic attack driving on the highway once when a bee got in my car. I almost had a wreck trying to get it out. Why didn't I pull over? Because I am a doofus...and I was panicked, duh!

7) How fast can you type? Really fast with tons of mistakes...average speed if you want accuracy.

8) Are you afraid of the dark? Sometimes, yes. Occasionally, looking through the house at the backroom/laundry room, if I am home alone, it creeps me out. Oh, and if the power goes out on the whole block and it is PITCH BLACK inside and out..yeah, that creeps me out, too. Mainly because walking through our house with no lights on is like taking your life into your own hands. Tripping over toys only to step on army men is not fun.

9) What color are your eyes? Green, with a touch of brown and a really cool dark ring around the iris.

10) Have you ever made out at a drive-in? No. The drive-ins around here weren't open when I was a teen. They have since reopened, but the times we have gone, we've had a kid in tow.

11) When was the last time you chose a bath over a shower? It's been years.

12) Do you knock on wood? Absolutely, though I don't really consider myself a superstitious person.

13) Do you floss daily? No. I admit it. I HAVE flossed, but I am not a flosser.

14) What happened to question #14? Comment trolls ate it, I'm sure.

15) Can you hula hoop? No. My waist is currently as large as the hula hoop.

16) Are you good at keeping secrets? Yes, for the most part.

17) What do you want for Christmas? Bariatric surgery...but if I can't have that (I can't), then I would take an mp3 player. I don't know, I don't usually want many things.

18) Do you know the Muffin Man? The Muffin Man? The Muffin Man? Doesn't he live over on Drury Lane?

19) Do you talk in your sleep? I don't think so. Bubba says I snore, but I totally DON'T!

20) Who wrote the book of love? Not sure, but I THINK ABC has the look of love.

Ok, she ended it here, but there were really 40 questions so I followed the linkage and found the rest. They came from someone named Luckybuzz who's link I do not have at the moment. Forgive me. So, here are the last 20.


21) Have you ever flown a kite? Yes, but it's been years and years.

22) Do you wish on your fallen lashes? Sometimes. It's kinda like that whole knock on wood thing.

23) Do you consider yourself successful? Not really.

24) How many people are on your contact list of your cell? I don't have a cell. (I'll wait for the collective GASP now)

25) Have you ever asked for a pony? Nope. Ponies never interested me. I was happy with a new Barbie every now and then.

26) Plans for tomorrow? Spring Sing and carry-in at church.

27) Can you juggle? That would require a measure of coordination.

28) Missing someone now? Yes, Bubba. He's out of town doing the umpire thang.

29) When was the last time you told someone I Love You? This morning. My kids.

30) And truly meant it? Uh..this morning..my kids

31) How often do you drink? once or twice a year

32) How are you feeling today? Yucky..I haven't washed my hair and I had to be at work at 7am.

33) What do you say too much? Freakin'

34) Have you ever been suspended or expelled from school? Never. I was such a good girl!

35) What are you looking forward to? Going to pee. Seriously, I have to go REALLY badly...but I'm messing around here with this meme!

36) Have you ever crawled through a window? Yes..when I didn't have my housekey after school in either middle school or high school.

37) Have you ever eaten dog food? NO! Gag!

38) Can you handle the truth? I can handle it but I don't have to like it!

39) Do you like green eggs and ham? Never had green ones, but I like eggs..and I tolerate ham.

40) Any cool scars? C-section scar (3 times!), gall bladder removal scar. Scar on my bottom lip from falling off the slide in 2nd grade and breaking my plastic Snoopy Lunchbox. I used to have a chicken pox scar on my nose, but I think it has faded away.

Some of those were pretty cool questions. Feel free to steal from me what I stole from others!!

Happy Saturday!!
posted by Angie @ 9:46 AM


Thursday, May 04, 2006
It's Thursday again!
Thirteen phrases from Seinfeld thatANGIE

quotes too much/loves

Really, I need a Thursday Thirtyseven or more to cover this subject, but these will do. If you have a favorite, leave a comment. If you actually have a life and don't know any Seinfeld quotes, leave a comment and say hi anyway! :)

1. Maybe the dingo ate your baby.
2. You stole my Jesus fish!
3. A festivus for the rest of us.
4. We live in a society!
5. Seinfeld, FOUR!
6. High five.
7. I can't spare a square.
8. You are SOOO good looking.
9. She had man hands.
10.For fifty bucks I'd put my face in their soup and blow.
11.Not that there's anything wrong with that.
12.These pretzels are making me thirsty!
13.Vandelay! Say Vandelay!

Honorable mention, "STELLA!"
Honorable mention #2, "I'm not the one going to hell."

Thanks to DENISE for helping me with the auto-linky thingie because I just wasn't getting it. :)

Links to other Thursday Thirteens!



Get the Thursday Thirteen code here!


The purpose of the meme is to get to know everyone who participates a little bit better every Thursday. Visiting fellow Thirteeners is encouraged! If you participate, leave the link to your Thirteen in others comments. It's easy, and fun! Be sure to update your Thirteen with links that are left for you, as well! I will link to everyone who participates and leaves a link to their 13 things. Trackbacks, pings, comment links accepted!

View More Thursday Thirteen Participants


posted by Angie @ 9:58 AM


Wednesday, May 03, 2006
What a GREAT idea!
If you are an American Idol fan, you HAVE to read THIS POST. I found it while surfing over at BLOGMAD (which I love with all my heart so go sign up if you haven't yet, ok??) ANYway, that post is too funny..and I swear, "Drunky McSlosherson" just about made me pee myself. Doesn't take much to make me laugh, I know. So GO. Read. NOW.
posted by Angie @ 10:27 PM


What time is it? It's *GTHOTS time!
So tonight we get down to the Final Four. Who will have to *GTHOTS (get the heck off the show)?

Off we go...

Ryan says almost 45 and a half million votes were cast last night.

Group song, "Together We Are One." Alone, they sound good..but when all their voices get together, no. Kinda cheesy. I'm trying to be positive, but, man, these group songs just kill me.

GREAT commercial! I won't try to explain it, you just had to see it. :)

Recaps.

Ok..on with the show..after the break...

Taylor is SAFE!!
Chris is SAFE!!

2 with the lowest number of votes: Paris and Elliott

GTHOTS Paris!

She's adorable.

I think we have ourselves a REALLY good Top 4!
posted by Angie @ 8:58 PM


This MoJo ain't workin'!
Halfway through this weeks episode of The Amazing Race and I want to STRANGLE Joseph and Monica! They are nasty and whiney and bitter. Followed closely by the frat boys who I haven't been able to stand from the beginning. Grrrr....
posted by Angie @ 8:33 PM


Tuesday, May 02, 2006
Top 5 live blogging
I have a killer headache....but AI doesn't stop for headaches by golly! :)

Not sure how good this live blogging will be as they are singing two songs each tonight, but I'll do my best to keep up for the two of you who actually read it. (Hi, TARA!!)

Personally, I am looking forward to Chris singing "Renegade" by STYX. LOVE that song!
~~~~~

I'm glad Seacrest shaved! Paula has her hair out of her face thank goodness!

Tonight they are singing a song from their birth year and a song from this week's Billboard charts.

Elliott sings from 1978 "On Broadway." Perfect song for the runs he likes to do. Seems he immediately captures the audience more than usual. He looks good in his jeans and coat. He looked a little nervous. A VERY good performance from Elliott! The middle and end of the song was really good. Simon didn't like it much but I give him 20/25.
Song 2--Home by Michael Buble. Elliott slows it down. I really like this song and Elliott does a good job with it. Nothing spectacular but good nonetheless. Very romantic if that is possible. I give him 20/25.

Paris sings from 1988 "Kiss" by Prince. She looks really cute. Hmm...I don't know what to think. She was good..but there is something about Paris, as I've said all along, that I can't put my finger on. I don't NOT like her, but I don't like her a lot. Simon said screechy and annoying. I wouldn't go that far, but still. It was ok..pretty good. I just can't explain what it is. I give her 19/25.
Song 2--Be Without You..Be With You? What is this song called? Anyway, I don't like Mary J Blige much, or this song, so I didn't like the song choice. Paris did a good job but again that whole can't-put-my-finger-on-it thing. I give her 19/25.

Chris sings from 1979 "Renegade" by Styx. YEAH! I love this song..I love Chris...I LOVE Chris singing this song!!! He is HOT and awesome and did an EXCELLENT job of that song!!! Ok, I wasn't going to get all gushing tonight..but DAY-UM...boy is HOT! I give Chris 24/25. (I know, I know...it's high..but it was GOOD!)
Song 2--I Dare You. A song I don't know, but, yeah..I'll like it. A tad screamy, but I like Chris. His leather jacket looks good. I give him 21/25 for the slower, softer notes of the song and 19/25 for the screamy parts. :)

Katharine sings from 1984 "Against All Odds." Oh..not a great start, but it is getting better as the song goes on. Her tight dress and heels may make her fall over, but she looks gorgeous as usual. Not the greatest of song choices for her. A few sharp notes. I love Katharine! But this performance wasn't her all time best at all. I give her 20/25.
Song 2--Black Horse & the Cherry Tree. GREAT song choice for Kat. She sang the entire song on the floor! Very, very good! I give her 23/25.

Taylor sings from 1976 "Play That Funky Music." OH YEAH!! This is MY Taylor!!! He is fully in his element! What a performer!! Excellent performance! Heck, I don't even know how he sounded. And? Taylor looks awesome tonight! Great hair, great clothes! I give Taylor 22/25.
Song 2--Something. Oh no..Taylor goes slow on us...sometimes this goes bad. Oh, he's sounding really good so far. DANG it! My neighbor came to the door and I missed the end..but it was really good up until then! I give him 22/25.

I thought it was really a great night. Some great song choices overall. Now, I have to go vote. :) Later.
posted by Angie @ 7:56 PM


Monday, May 01, 2006
Hooked on Phonics worked for me!


If you are going to be all pissed off at Johnny Damon for leaving and going to the Yankees...AND...you want to be all cool and make a gi-normous sign for all the world to see on tv...don't ya think you could..maybe..oh..I don't know...LOOK UP THE CORRECT WORD IN A DICTIONARY??

I'm just sayin'...
posted by Angie @ 10:22 PM


Pet Peeve(s) Alert
If you are a famous musician/singer, please stop using the stage for your personal political soap-box. I pay hard earned $$$ to see and hear you perform your MUSIC not bash the prez or whine about any other dang thing. Just shut-up and SING!

(the above pet peeve is purely hypothetical, sort of, as I don't have $$ to actually buy tickets and see a show. However, I see enough news clips to know.)

Boston, please stop whining because your ex-golden boy, Damon, went where the money is.

Remember a while back when I said how much I HATE those "Impeach Bush" corner banners on blogs? Well, the newest one I've been seeing around the blog world is funny as hell..."Imbush Peach." Ha..I might actually consider that one on MY blog. Not.

I had another pet peeve to complain about..however, my husband's plea of "Honey get the tweezers and pluck my uni-brow" made me forget. Yeah, I'm serious. Nothing like eyebrow pluckage while watching the Yankees. If that isn't the picture of a typical American family, I don't know what is.
posted by Angie @ 7:23 PM


"The Date" revisited
One of my blog friends said something like this, "Sorry you had a lousy date."

Thing is...it WASN'T lousy at all. We had fun. We laughed a LOT which is always good. We ate a lot. Which is always good in a sorta bad way. We ran up the check and pretended to have money for one night by tipping the waitress, who I swear was actually a boy, a grossly enormous amount. We had time together with NO CHILDREN. Non Les Infants. (OK, so I can't remember the correct French phrasing. So sue me.)No kids meals involving ficken chingers chicken fingers or the use of ketchup. No cups with lids. No crayons on a kid's menu. We sat in the bar and I partook of the al-kee-hall. So we went to TWO, count 'em TWO Wal-marts. What of it? When I posted that I had a date, what I meant was, EATING OUT WITH NO CHILDREN!! The rest? Gravy.
posted by Angie @ 5:34 PM


But wait, there's more!
Ok, who still watches "The Sopranos?"

Like, OMG!(<<<---I, like, totally do NOT talk like that, fer shur.) Tony almost had the S.E.X. with NURSE HATHAWAY from ER!! Nurse Hathaway who had babies with sexalicious DOUG ROSS and ran off to be with him in one of the MOST romantic moments on TV EVAH!

Ok, that just freaked me out a little. Just had to share.

I now return you to your regularly scheduled Monday. Thank you.
posted by Angie @ 10:38 AM


Big Love
No, no...this is not more posting on our big date Saturday. ;)

Who else has been completely sucked in to the lives of the characters on Big Love? (it's on HBO in case you didn't know.) I mean come ON! Bill "Twister" Paxton as a polygamist, viagra using, home improvement store owner in Utah. Jeanne Tripplehorn, Chloe Sevigny, and Ginnifer Goodwin as his wives. Harry Dean Stanton (he is tres creepy!), Bruce Dern (he pees in the sink regularly), and Mary Kay Place are just a few of the others in the cast. I can't put my finger on why I like it so much, but I am HOOKED! If you have HBO you should really check it out.

Currently, Bill Paxton's character is "having an affair" with one of his wives (Jeanne Tripplehorn) on days that are not scheduled to her. Chloe Sevigny's character is $60,000 in debt because she is a shopaholic. The third wife is just young and a little naive so she almost blows their cover to the neighbors on a daily basis. No one knows they are polygamists except a chosen few. Oh, and did I mention they live in 3 separate houses next door to each other that share a backyard? Yeah. It's twisted and weird and sorta soap-opera-ish but it is my new guilty pleasure!

So ends my tv review for the day.
posted by Angie @ 10:20 AM