Monday, May 22, 2006
A post about nothing that turned into me talking about tv too much
Work was busy today and I am PRETTY sure every single person who called was trying to get on my last ding dang nerve!


I'm still in the middle of a raging bad case of the blogger's block. I'm surfing some, though and visiting some of my favorite reads. I've been doing a lot of "Yeah! What he/she said!" while reading blogs, but I can't seem to come up with anything original or thought provoking. *SIGH* So, I'm posting this lame-o post and rocking out (in my mind) to "Slither" by Velvet Revolver and trying not to think about the INXS concert I am missing tonight. *double sigh*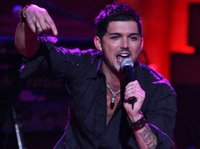 NO, I didn't win the tickets from the radio. Some other chick who I am SURE doesn't even know who INXS is, now is sitting in MY front row seat getting to look at JD Fortune's......eyeliner. What? You thought I would say something dirty? Shame on you!!
For those of you who think I'm crazy for liking the "new" INXS *cough*Scooter*cough*, I really don't give a crap. I saw them with Hutchens. They ROCKED! I want to see them now with the new guy (see above crotch shot). I'm not a music snob. I don't care if it's considered the best song or music of all time...if it makes me sing and dance and bob my head and smile...I like it. Scoff if you will..but I likes me some sexy rock stars.(I think I got the crotch shot from Rockband.com. You should check them out.)

Speaking of sexy rock stars...here's my *triple sigh* new favorite rock star..well, he soon will be, anyway.
I am still recovering from the grief of him leaving American Idol. I've almost made it through all the stages now. The only consolation is he will soon be recording some awesome NON-American-Idol-produced music and that will ROCK...much more than Bo Bice's CD sucked. As much as I hate the whole carrying around of the mic stand thing (think Constantine from last year), I do love me some CHRIS DAUGHTRY! Tell me, what will I blog about on Tuesdays and Wednesdays now that Idol will be over this week?? No more live blogging of the performance night. No more GTHOTS. (Oh, that reminds me, Big Brother starts soon. PERFECT!) Here's one more just for TARA.




Who watched the Will & Grace finale? LOVED it! One of the best finale shows I've seen in a LONG time. It was like the old Will & Grace I used to love from the first couple of seasons. They wrapped up the story pretty well and I managed not to cry. I want friends like Will & Grace & Jack & Karen!


The ER finale was good, too! Though it wasn't the series finale like Will & Grace. 3 big cliffhangers. I love a good cliff hanger! Jerry was coding, Abby was hemorrhaging (I think. well, she passed out anyway), and Luka was tied (handcuffed?) to a gurney in a dark room with a tube in his throat unable to yell for help!! That was almost too much for my heart to take. That on top of the emotional farewell to Neela's husband. It's good ER again.


**Possible LOST spoilers**
I've been TRYING to get caught up on all my favorite shows that I've been DVR-ing for the past few weeks. I'm STILL a GAG, Mitey Mite. I'm just so far behind, I haven't been able to talk about it. I plan to catch up with everything by the weekend. I also have to catch up on Desperate Housewives. BUT..I DID finally catch up on LOST and oh my gosh! I forgot how much I LOVE that show!!! I can't wait to watch the finale...which I will have to DVR because, hello? American Idol finale! :) One thing about Lost, though. I am so sad they killed off Libby right when Hurley was movin' in on her!! Supposedly some questions are answered in the finale. One good thing, I know they won't answer everything and will add more questions which just keeps me watching.

Ok, I should go. I was gonna mention the whole Britney Spears-Fed incident with "almost dropping the baby in public" but who HASN'T seen and heard about that?? Totally blown out of proportion if you ask me. But you didn't ask me so I'll shut up now.

Toodles.
posted by Angie @ 9:47 PM