Saturday, April 30, 2005
Demolition Man
I was flipping around on the tv...I mean I was flipping channels, not actually flipping around on top of the tv...anyway, Demoliton Man was coming on so I stopped on it and have been watching it. A couple of funny things I noticed. Funny or weird or something. They were showing a list of prisoners and one of them was named..Scott Peterson!
Then, Sandra Bullock's character was telling Sylvester Stallone's character about some of the things he had missed while in his cryogenic state. She told him about visiting the Schwartzenegger Presidential Library. She said, even though he wasn't born in this country, his popularity was so high that they made a 61st amendment so he could be president.
Ok, so maybe you all knew that stuff was in the movie, but I had only seen about the first 20 minutes of it before.

I now return you to your regulary scheduled interesting blogs.
posted by Angie @ 10:57 PM


Comments galore
I think today I will go comment at all the sites on my blogroll. I am such a lurker and don't always comment. I just feel all comment-y today. :)
posted by Angie @ 9:17 AM


Duh
Your Taste in Music:
80's Pop: High Influence
Adult Alternative: High Influence
80's Alternative: Medium Influence
80's Rock: Medium Influence
90's Pop: Medium Influence
Old School Hip Hop: Medium Influence
80's R&B: Low Influence
90's Alternative: Low Influence
Hair Bands: Low Influence
R&B: Low Influence
posted by Angie @ 8:15 AM


Friday, April 29, 2005
Bummer
I've been looking at a blog template design over at Web Divas all week. I wanted it really, really badly. I planned to buy it today after work. When I got home, it was sold. That's what I get for waiting. One of these days this here blog will be stylin'. Until then, y'all will just have to look at this pink-ness.

In other news...I gained a pound at weigh-in today. I figured I would. In fact, I thought it would be worse. This has been a bad week. I am PMS-ing really badly...I just wanted to..still want to...eat everything in sight! And, there is a doughnut in the kitchen with my name on it. The next few days have to be better than the last 7!

The kids and I were watching "Jeff Corwin" on Animal Planet yesterday. He was talking about snakes. One of the snakes bit him and he was saying OW! really loudly so the kids were mocking him. Then, Tater Tot said, "Son of a BITCH!" Out of the mouths of babes, indeed. I never say that. However...hubby likes to say, "Son of a biscuit" all the time. I pointed out the error of his ways. :)

Bubba-ump is a great kisser!

An American Idol note...did it disturb anyone else how Paula acted on Wednesday?? Crying so hard she could barely speak...climbing all over the table to console Constantine's mom. That girl just ain't right.

I am so mad that Stephanie got voted off Survivor! Those other girls are idiots! If they think for one minute that the guys won't vote them off, they are crazy. They would have been smart to get the "girls alliance" going and voted off all the men. Have these people NEVER watched a previous Survivor in their lives?? And, at the final show when the winner is revealed, if one person says I/He/She/They played with such integrity, were so honest, didn't lie....blah blah blah...I will puke. The whole point of the game is to lie, cheat and steal your way to a million dollars! Hello?! Now that Steph is gone, I could not care less who wins. But of course I will still watch. :)

Hey, Tara...Rob is STILL totally lickable HOT!!

And finally...a couple of photos from my past...the first one is Bubba-ump in his high school football glory days. I LOVED him in that uniform!



I love a man in uniform :)



And this one is of me and Bubba-ump in high school. The glasses he has on were mine..and they weren't even real. I bought them at "Claire's" just to look cool or something. I had a purple pair, too. I was so goofy.


Young love



That's all for now.
posted by Angie @ 8:02 PM


Wednesday, April 27, 2005
Na na na na, na na na na, Hey, hey, hey! Goodbye!
Wow! Constantine went home!! Below I have included a montage of photos including the many things I hated about Constantine. Enjoy! :)



Call me! I'll be at home watching American Idol--Constantine


This look frightened me


and this look just grossed me out


Freakin' mic stand!!!



Constantine, please go home now and wash your hair and learn that a razor is your friend. Thank you, and good night.
posted by Angie @ 10:48 PM


A letter to Constantine
Dear Constantine,

Please stop everything you do.

Love, Anj-panj



No, really, I am serious. I was in a 3 minute cringe while he sang last night. I want him to stop
1)singing
2)pretending to be a rocker
3)kicking his foot at the camera
4)making eyes at the camera
5)making the "call me" gesture to the camera (not certain he did this last night but he usually does.
6)carrying the mic stand around
7)everything else he does

And I want him to..
1)Go Home

But he won't.

Vonzell kicked it. Scott's voice is smooth, but not enough power.

Bottom 2 for sure should be Anthony and Scott and in my wildest dreams, Constantine.

Everyone else was highly forgettable.

Ok, gotta go to work. More later.
posted by Angie @ 7:39 AM


Tuesday, April 26, 2005
Where's the cake?

I just heard on the radio that it is Roger Taylor's birthday today. (I used to know these things!) He's 45!! Yep, I'm officially OLD! (He's still hot, though, huh??

posted by Angie @ 7:48 AM


Sunday, April 24, 2005
How did I miss this one?


Take the Which Character Am I? Quiz





Have I mentioned that I love the 80's?
posted by Angie @ 7:51 PM


Sunday Brunch
Tara found this meme somewhere today so I thought I would be all junior high and copy her. But she won't care. (right, Tara??)

1. Do you eat breakfast on a regular basis? Why or why not?
I used to NEVER eat breakfast back in high school. I just didn't take the time. Now, I like to eat a little something, usually at my desk at work or else I am starving by lunchtime. And, since I am trying to lose weight, I need to eat to keep my metabolism moving at the snail speed it does.

2. What is your typical everyday breakfast?
I usually have lowfat yogurt and a banana or a few fat free pretzels for crunch. sometimes hubby will fix me an egg sandwich. I like cereal too, but I don't usually take the time to eat it on weekdays.

3. How do you eat your eggs?
I love over easy. That is my favorite, but I like 'em scrambled and hard boiled, too. Bubba-ump fries a mean egg!

4. What is your favorite restaurant to eat breakfast out at?
Truck stops are the best! Fattening, but sooo good! IHOP is good of course. And Sirloin Stockade has a good breakfast buffet, but I never go there anymore.

5. Describe your perfect breakfast in detail.
My perfect breakfast would be a little bit of everything brought to me by room service in a nice swanky hotel! :) Fruit and waffles and pancakes and juice and biscuits and cereal and bacon and eggs and chocolate milk and...
Of course I wouldn't eat it all, but it would be there in case I wanted it!

Another perfect breakfast would be my grandma's biscuits and eggs and bacon and fried pies and fried chicken. Yummy. I wish she were still here to cook it for me!
posted by Angie @ 3:24 PM


What American Idol?
Hmmm..Kelly Clarkson is looking particularly sex kitten-ish on Saturday Night Live tonight. Not the image she once portrayed. Interesting.
posted by Angie @ 12:08 AM


Saturday, April 23, 2005
A meme I haven't seen
Ok, so I found this one over at Wednesdays Off. I probably shouldn't do it because I haven't seen very many concerts in my life. Here goes...

Here is how it works. Copy this list. Leave in the bands you've seen perform live. Delete the ones you haven't and add new ones that you have seen until you reach 25. (Uh-oh, what if mine doesn't reach 25??) An asterisk means the previous person had it on their list. Two asterisks means the last two people who did this before you had that band on their list.

1. Matchbox Twenty
2. Dave Matthews Band
3. Duran Duran
4. Loverboy
5. Inxs
6. Prince
7. Ladysmith Black Mambazo
8. Tim McGraw
9. John Michael Montgomery
10. MC Hammer (!)
11. Vanilla Ice (!!)
12. Brad Paisley
13. Loverboy
14. The JayHawks
15. Everclear
16. The Hooters**
17. Erasure
18. Christina Aguilara(against my will)
19 N*Sync (shut it!)
20 The Tractors
21. Lifehouse
22. Lorrie Morgan
23. Little Texas
24. Sugarhill Gang
25. The Statler Brothers (ok, I'm reaching here, this was as a child)

How pathetic...I think I have wanted to see more people than I have actually seen. Can you tell we went through a country phase?

Ok, your turn!
posted by Angie @ 8:42 PM


Put your POP in the grocery SACK
Everyone else has done this so you know I had to put it on my blog, too. I actually did this little quiz a while back but never posted it, so, here it is...







Your Linguistic Profile:



75% General American English

10% Dixie

10% Midwestern

5% Upper Midwestern

0% Yankee





I have lots of southern blood in me, but apparently I didn't pick up the language. :)
posted by Angie @ 8:32 PM


A Question Re: blog etiquette
Ok, just a general opinion question here. When someone comments on your blog do you answer each one individually through email? On their blog? In the comments of your blog? I feel incredibly guilty because I am really bad about answering comments. It's not to say that I don't read and appreciate every one of them. On the contrary! I love comments and read and appreciate them all. This is just a "just wondering" kind of thing.

To all of you who comment regularly, THANK YOU!! I am not ignoring you, I am just really bad at this blogging thing. :)


Also, how do you strike out a word? You know, make a line through it. What is the code or whatever? Told ya I am bad at this stuff. :)
posted by Angie @ 7:20 PM


Saturday stuff
Took the two youngest for haircuts this morning. Tater Tot went first and got about 5 inches cut off. She looks really cute. It cut off the blondest part of her hair and now it looks quite a bit darker than before. Most of her curls are gone, too. But her hair has so much body, it just bounces. I wish mine looked like that! Bubby took a little more coercing to sit still, but he did well considering. He just looks so grown when he has his hair cut. He's still my baby, though.

Took Guard Girl to Dot's to get a new outfit for my cousin's wedding next week. While she was in that store we took the other two to Big Lots to get a new toy with money from Grandma for "being good while they got their hair cut." Bubby got a firetruck and an ambulance and Tater got a Barbie and a set of glamour stuff like a hair dryer, mirror, pretend eyeshadow, etc that comes in a little purse and has the Disney princesses on it. Of course they wanted everything they saw.

Yesterday was weigh-day at work. I stayed exactly the same. Bummer. Though I am happy that I didn't gain, it is still discouraging to not lose. This weight loss thing is way too hard! There should be an easier way, don't you think?

Something triggered my allergies today something awful! And, it is only 30 degrees outside! That doesn't seem right somehow. Allergies in cold weather.

We watched Ladder 49 last night. I thought it was pretty good. A little slow, but Joaquin Pheonix is great. And, of course I cried at the end. I always cry at movies.

Sorry for this boring post, I just wanted to post something so you all didn't have to look at my senior picture every time you happened by.
posted by Angie @ 5:58 PM


Wednesday, April 20, 2005

Here I am, circa 1989 as a senior in high school. Look at those bangs! Note the necklace hanging out of the turtleneck. Pay close attention to the big colored earrings that match my multi-colored sweater just perfectly! Blue eyeliner, too, but you can't really tell in this photo.

posted by Angie @ 12:45 AM


Tuesday, April 19, 2005
Look what I got!!

Yeah...



My husband loves me. And he takes not-so-subtle hints very well. Do you think he figured out what CD came out today when I wrote it on the calender REALLY BIG? Or perhaps it was when I forwarded the email to him that talked all about the new cd. Maybe it was when I held up the Target (NOT pronounced tar-zhay)ad on Sunday, open to the page with the Rob Thomas CD's on it. No, wait, maybe just maybe it was because I went to Target.com (after the Target ad got thrown away) and printed out the Rob Thomas CD page and laid it on his desk where he would see it because his keys and belt and all that stuff was there, too. Nah, I didn't think so. He just loves me! :)

Now Playing-When the Heartache Ends by Rob Thomas (of course!!)
posted by Angie @ 11:58 PM


Put the mic stand down!!!
Hello, Constantine? Bo? Please, please, pretty please with a cherry on top PUT THE FREAKING MIC STAND DOWN WHILE YOU SING! It is not cool. It will not make you cool. It will not make you more of a rock star! Please, just stop.

I won't bore you all with a play by play, but I will tell you who I liked tonight.
Vonzell was awesome! She is just adorable and should make it to the final 3.
Carrie was really good as usual. She is my pick to win.
Scott picked a GREAT song for his voice. Oh, and, thank you, Scott for not being a smart ass to Simon tonight.

I didn't like Anthony, Bo or Constantine. Constantine just makes me gag. I hate the sound of his voice. I hate his dirty nasty hair. I hated the make up on his eyes tonight. I hate how he carries the damn mic stand all over the place. And I HATE his "call-me" gesture!!!! I think I have mentioned that a few hundred times before.

Who I think should be in the bottom 3--Anthony, Bo and Constantine.
Who will be in the bottom 3--Anthony, Scott and Bo

And Bo? Stop with the flipping your hair all over the place. Yes, we know it is long and rock star-like. Mkay? God, I'm old.
posted by Angie @ 11:38 PM


Do you remember?
It was one of those things that happens that make us all just know that we will remember exactly what were doing when it happened. Do you remember where you were and what you were doing when the Murrah Building in Oklahoma was bombed? I remember exactly what I was doing. I was typing (on a typewriter!) a paper for a college class. Bubba-ump was at work. Guard-girl was in pre-school. I was sitting at the kitchen table typing my paper and the tv was on. Then suddenly it was all over the tv, nearly every channel. And I remember feeling shocked and sad and mad. I remember seeing all those babies being carried out of the building. What a terrible day. And we thought that was as bad as it could get. We had no idea that something bigger would happen to overshadow such a tragedy in 2001.
posted by Angie @ 11:31 PM


Sunday, April 17, 2005
vh1's Save The Music Concert
Is on right now. Thanks to Tara for reminding me it is on. I don't think I missed Rob Thomas, but even if I did, I know they will replay the concert a hundred times in the next week or so, so I am sure I will catch him. Poor Bubba-ump. He missed Joss Stone just now. I love her voice. I have her second CD but I really want her first one as well. Oh, speaking of CD's, Rob's comes out Tuesday. (Tara!) Target is selling an extra CD with it with 7 songs. So, that is where B-ump will be on Tuesday while I am at work. :)

Ok, I'll post more when I see something else to post about.

9:10pm--I LOVE Josh Groban. What a voice! And did you see him playing those drums?! How cool is he? I am TEN YEARS older than him! Ew..I feel ancient! :)

9:18pm--OH MY...Rob Thomas and Alicia Keys are going to perform! Should be good!

9:30--I was right! It WAS great! RT is sexy as ever! Yummy! Oh, yeah, he can sing, too! And of course so can Alicia. She is awesome.

A GREAT concert! I will definitely tape it. I really liked John Legend (was that his name?). I really like his voice so I think I will have to listen to some more of him online and see if I want to get his CD. The hype over Mariah Carey was just silly. I've never been a big fan anyway. The Rod Stewart songs sung by all the different performers was really good and even Rod himself came out and sang. I'm with Tara on this one, I hope they put out a CD from this concert. It would be well worth the price.
posted by Angie @ 8:59 PM


A question for those who use Hello to post pics
Is there a way to post more than one picture in one post??? It is driving me freaking batty!! Batty, I say!! HELP!! (insert pathetic, sad, puppy dog pleading eyes here)

Update: I am pretty sure I can do it now. Thanks all!
posted by Angie @ 11:25 AM


Nothing new to report
So why the heck am I posting? I want to write about a whole lot of stuff, but nothing is coming to me.

Now Playing-- Breathing by Lifehouse

I need a big long meme to keep me occupied. I should go look for something.

I have a baggie full of film that needs developed in my purse. When I say a baggie full, I mean 14 rolls! No joke. I take way too many pictures

Ok, I think I'll finally go to bed. Sleep is a good boredom buster. :)
posted by Angie @ 12:57 AM


Saturday, April 16, 2005
Scrabble me this
I thought this was cool. Saw it on a blog via blog explosion and now I can't remember whose it was.



posted by Angie @ 8:06 PM



Here are my upside down monkeys. :) If you look real closely, you can see Bubba-ump's eyes peeking over.

posted by Angie @ 5:52 PM


Happy Weekend!
My weekend so far has been ok. Last night I took Guard Girl and Drummer Boy and another couple of her friends to see "The Amityville Horror." I didn't sit with them, but I sat behind them a few rows and I warned them that I would not hesitate to embarrass them if need be! They were on their best behavior needless to say. :) The movie scared the pants off Guard Girl and the others made fun of her all the way home in the car. I'm not sure why she likes scary movies. As for what I thought of the movie, it was ok. There were a lot of "GASP" moments that sort of freaked you out, but I prefer the original. The actors were good, but as a whole, the movie wasn't wonderful. I certainly wouldn't have paid to go see it if I weren't taking the lovebirds.

Movie Pet Peeve--People who show up late..10 minutes or more late and then stand around looking for a place to sit and whispering about it LOUDLY. I am not a shusher, though. I just try not to miss what is going on on the screen. :)

Oh yeah, yesterday was weigh day at work. I lost 1.6 more pounds! Yay! I am up to 9.8 pounds lost now. Go me! It's been hard, but I am on a roll now...I don't want to stop.

I'm at work as I type this. It's my turn to work a Saturday. We rotate so I only have to do it every 7 or 8 weeks. I am the only one in my office and soon I will be the only one in the building! I enjoy the silence though since every other day at work is full of ringing phones and loud voices all around. I am off in 2 1/2 hours.

That is enough blog filler...gotta go. More later.
posted by Angie @ 12:19 PM


Thursday, April 14, 2005
Better late than never
I never posted about American Idol this week so I thought I had better bore you all and talk a little about it. Here is my take on Tuesday nights singing...

Nadia Turner- I missed Nadia's performance because I wasn't home so I don't really have an opinion. All I saw of her was the re-cap clip at the end of the show.
Bo Bice- Bo picked a good song, but I don't think he did a very good job singing it. I get so tired of him carrying the mic stands around and flipping his hair all over the place. I am kind of indifferent to him, though I think he will be in the final 3.
Anwar Robinson- Anwar did so much better than he has done in the past few weeks. I like him, but every song he sings sounds exactly the same. He'll probably go soon.
Anthony Federov- I am not a big Anthony fan. I just don't think his voice is strong enough or versatile enough. I love the song he sang, "Every Time You Go Away", but his rendition was not so good. He needs to go very soon!!
Vonzell Solomon- Vonzell kicked butt! She sang "Let's Hear It for the Boy" and it sounded great. She is cute and peppy and I think she gets better every week.
Scott Savol- I am a HUGE Scott fan. I think his voice is soooo smooth. He sang "She's Gone" by Hall and Oats, who just "happened to be" in the audience. The low notes at the beginning were not very good, but he kicked it later in the song. I like him. Sure he does have a bit of attitude which I don't particularly care for, but I still like him.
Carrie Underwood- Carrie did awesome! She sang "Love is a Battlefield" and I loved it! Her hair was straightened and colored and that looked cute as well. I was just happy that she didn't stand there so stiff like in previous weeks.
Constantine Maroulis-I CANNOT STAND Constantine. Seriously. I can barely watch him. He sang, of all things, "Bohemian Rhapsody", and he shouldn't have. And please, Constantine STOP with the making love to the camera thing! If he does the "call me" gesture one more time...ugh... Please go away, Constantine. He hang around though. Too big of a fan base.

At the end of Tuesday, I thought it would be Anthony and Scott in the bottom 3, but I couldn't decide on the 3rd. I was shocked when Bo was in the bottom 3 with Nadia and Scott. And personally, I did NOT like Bo's answer when Seacrest asked him what he thought about being in the bottom three. Way too cocky and arrogant and by saying, "I don't care, this was just a bet between me and my mom." I think he might have pissed off some fans.

I think the final 3 will be Carrie, Vonzell and either Bo or Constantine. But, stranger things have happened.

Sorry for this post to those of you who don't watch and don't care. I just like to hear myself post. :)


Here they are...the final 7.

posted by Angie @ 6:45 PM


I TOLD you there is photographic evidence!
Remember when I talked about the birthday party that my friend and I threw for Andy Taylor of Duran Duran? Well, here is the evidence.



Me with the sign we made for the occasion. As you can see, we hung an Andy collage of posters on the wall just for his birthday. The back of this pic says, "andy's (thrilling) b-day party. 2-16-85 Do I like Duran Duran or what?"

posted by Angie @ 4:06 PM



My best friend at the time, Jeri posing with the birthday cake. The back of this pic says "UGLY cake!" and it was. We made our own icing and it turned out a sort of greyish purple color.

posted by Angie @ 4:02 PM



Here we are enjoying our luscious Andy birthday cake along with Diet Dr Pepper FROM A BOTTLE! Glass even! Gotta love our "John Taylor fedoras."

posted by Angie @ 4:00 PM



The back of this one says "Bad music!" (Bad as in good. Check out my Garfield slippers that just add to the Duran Duran ensemble.) Taken on 2-16-85.

posted by Angie @ 3:58 PM


Blog It Forward Day
Buzz (yes, Buzz is back!) over at Buzzstuff has proclaimed this "Blog It Forward Day" and so it shall be. :) All you gotta do is pick a name or two or three from your blog roll and tell us all why they are there. What makes them blogroll-worthy? And then, of course this will just spread like wild fire and EVERYONE will be doing it!

So, who shall I choose?? Hmm...let's see...

The Daily Bitch She just got a new blog makeover so everyone needs to go see it. Aside from that, she posts a lot, keeps it all interesting and funny and witty and she is just a lot of fun to read. Go see!!

Outwit Outblog Outsnark Stacy is the snarkiest girl on the web! She is smart and funny and has an uberhusband and gives the BEST recaps of The Amazing Race I've read to date. Just go visit her, she's great!

How do I just stop at 2?? Ok, one more.

Pineapple's Post I can't NOT mention Tara. She loves the 80's as much as I do. And she lusts after Rob Thomas, too. Give her a visit.

Ok, I should stop or I will be listing my entire blogroll! Thanks, Buzz, for blogging it forward!!
posted by Angie @ 7:50 AM


Monday, April 11, 2005
Who's that old chap staring at me??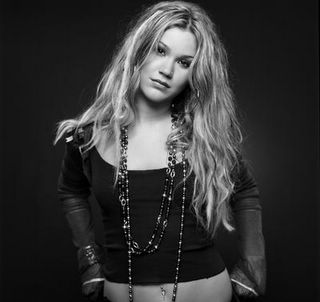 Today was Joss Stone's birthday. She turned 18. Cause for celebration for Bubba-ump. He can say she's hot now without being (too much of) a perv. This is for you, hon. :)

posted by Angie @ 11:59 PM


Wimpy, wimpy, wimpy
Bubba-ump opened one of the living room windows today to let the breeze in. That was a few hours ago when it was 78 degrees outside. Bubba-ump went to bed because he's been up for over 24 hours. Now the temp is dropping and the breeze is practically a hurricane and we are freezing. And I can't get the window down! I have tried everything. I pounded on it, pushed on it, pulled on it, shook it and swore at it. Nothing.

I swear I saw my breath a minute ago.

UPDATE:Because I know you were all waiting with bated breath...He finally, FINALLY woke up to go pee and closed the window for me. :) Of course he said, "Why didn't you wake me up?"
posted by Angie @ 7:45 PM


Saturday, April 09, 2005
Bad boys
Ok, so I was never one to be attracted to the so-called "bad boys" when I was younger. (perhaps that is why I cannot stand the greasy dirty looking Constantine on American Idol.) I remember the one guy I liked back in Middle School who was the one bad guy I ever was into. His name was Keith. He wore a mean pair of parachute pants! His was the first..um..nice butt I ever appreciated. He didn't know I existed. Then, he moved into a house about 3 down from my grandpa. I was in heaven. I could watch him closely from afar. :) Then...then...my friend Cindy started "going with" him! I was crushed and at the same time excited because I could be around him by being around her. She even asked him (for me) to sign my yearbook. I practically framed the page! Those were the days. :) Anyway, now that I have been talking about celebrity crushes, I have a bad boy that I have added to my list. Well, not THE list of 5, but he is certainly honorable mention. He is Matt Sorum, currently the drummer for Velvet Revolver, formerly the drummer for Guns N Roses. Sex-ay. There is just something about a drummer.



Bad boy

posted by Angie @ 8:49 PM