Wednesday, March 30, 2005
Wet and Sticky??
Eww...Has anyone seen the commercial?? Another more gross commercial can not be found, I tell you. It's the Always commercial. The two women are in the "feminine napkin" aisle and there is a third woman there who asks something like this..."Does your pad (or feminine napkin, whatever word she uses) ever get wet and sticky?" Oh. My. Good. Lord. Why?? Why?? Just, why?? Ew.

We watched "The Notebook" about a week and a half ago. Wow. LOVED it!! It's definitely on my list of favorite movies. The B-ump bought it for me a few days later. The night we watched it, it was me, Bubba-ump and Guard Girl, we all sat here bawling. I think I cried from the moment the kids came to visit grandma until the end. Snot and tears everywhere! What a love story. I recommend it to anyone who hasn't seen it yet. Two thumbs up.

So, Little Big turned 2 on the 18th. I can hardly believe he is that big! Doesn't seem that long ago that I was big and pregnant. Now he is getting so independent and saying lots of words. That is quite an accomplishment since I thought he would never say anything. My girls talked like crazy at young ages. But, he is a boy. Enough said. :) One of these days I will share the traumatic experience of his birth and first three weeks of life. He is quite the miracle. Happy birthday, again, Jameson.

I already shared the news of Guard Girl and the state finals. Nothing new to share there except try outs and practice for summer band and guard start in like, a week. Jeez...Time flies.

Ok, so I did finally get the Biggest Loser thing started at work. I think I mentioned it here a while back. 30 people signed up!! I was expecting maybe 10. Whoa! So now, if everyone stays in and pays every week, (it was 5 dollars to start and 1 dollar each following week for 16 weeks, plus 25 cents per pound gained.)the final pot is going to be quite a chunk of change! You know, I should have known better than to put myself in charge of something like this. Already it has been a pain in my behind. Long story short, we weighed in on one set of scales. When it became obvious that those scales both sucked and were not in a convenient place for weigh-in days, I bought a new scale. Of course a bunch of people, well, ok, one pain in my behind woman, proclaimed the new scales to be "3 pounds heavy" and proceeded to tell everyone within a 10 mile radius. Oh, and by the way, her HOME scales say she lost 6 pounds! Well, la dee freakin dah! This was on Wednesday the 23rd, the day I bought the new scale. It wasn't even weigh day and I couldn't keep them off the damn things! So, anyway, I finally had had enough and said, FINE!! This weeks weigh in will be the official first week so there is no question about the scale and SUCK IT! (ok, so I didn't say suck it, but I wanted to!!) I won't bore you with all the other gory details except to say that I lost 4 POUNDS that first week!! Yay me! However, I have so far to go...I am discouraged on a daily basis. It's just so hard. I need it to be easy. Where can I order easy? Anyone?

So, with the weight loss attempt, I have begun exercising. Walking at lunch and toning/aerobics after work on Tuesdays and Thursdays. Offered free through my work. It's killing me. I am horribly out of shape. When I am out walking, my legs hurt so bad I don't think I can make it back. Hubby says it's shin splints but it isn't my shins. I'll have to look it up.

American Idol. Thank goodness Mikalah went home last week. I couldn't stand anymore of her Nanny-like voice and goofiness. If she winked at the camera or anyone else for that matter ONE MORE TIME...and the girl was singing worse every week. America, you done good. Now this week. What the heck? That bottom three was a little surprising. Nadia, Anwar and Jessica. Jessica? Come on. And she was the one who went home! Crazy viewers. It should have been Anthony Federov! Please, please won't someone explain the appeal of Constantine to me? He looks dirty every week. Sure he can sing ok. But he is not American Idol material! When they showed his interview explaining what 90's music meant to him and he said that grunge had a big influence on him and inspired (grunge inspiring??) him and then they cut to live and he broke into a rousing rendition of "I Can't Make You Love Me" by Bonnie Raitt. *blink* Huh? Constantine is a rocker wannabe. Bo and that hat. And the poor choice of song. Carrie Underwood kicked some boo-tay. I think the final two will be Carrie and Bo. Unfortunately Constantine will probably last a few more weeks. Ugh.

I can't even remember what happened on Survivor last week except they got rid of James the hillbilly with the homo-sexyal stereotypes. All I know is ANGIE should have never gotten voted off the previous week!! Now, I don't know who I like. Jury's still out on that one.

The Amazing Race has been good the past couple of weeks. Rob and Amber are still my favorites! If you want a good (and funny) recap of the Amazing Race go here.

Ok, I think I will end these ramblings and give you part 2 tomorrow. This turned out to be more than I thought. There is more stewing around in my brain. So, make plans now to stay away! :)

Later.
posted by Angie @ 9:47 PM


Sunday, March 27, 2005

Happy Easter!

posted by Angie @ 9:15 PM



Here comes Tater Cottontail!

posted by Angie @ 9:12 PM


The winning performance
So, last Saturday was IHSGA Winter Guard Finals. It was a long day, but we had a lot of fun. The finals were at a high school south of Indy. Me, Bubba-ump, my niece H and Guard Girl's friend, W went. The whole thing started at 1pm and our guard didn't perform until 5:15 so we got to watch a whole lotta performances. It's a good thing I enjoy it! However, my big behind does not enjoy bleacher seats! Ouch! Later in the day, my sister, Nursey (H's mom) and my bro-in-law, K, and nephew, N, showed up to watch, too. I am convinced that everyone around us thought we were CRAZY because we raised such a ruckus when our guard's performance was over. We were hugging and screaming and crying and generally freaking out because it was the BEST and cleanest performance that they had done all season! And you thought sports parents were bad! :) Everyone around us from other schools were all saying that we had it won, even before they saw the remaining guards perform. Our camera didn't take very good pictures but the one below isn't so bad. GG isn't even in that pic. But scroll down a bit and you can see her after all was said and done and they were celebrating their gold medal victory. So, now you know why I call her Guard Girl. She is in the high school guard as an 8th grader and is very good at it. Already she has won 2 state championships, including the state marching band and guard competition last year for which she received(ok, we had to pay for)a state ring! If you are curious and want to see more photos of the competition, click here. By the way, their theme was "Interview With a Vampire" with music by Depeche Mode. The song was "One Caress." Hence the evil goth make-up.



The winning performance

posted by Angie @ 6:56 PM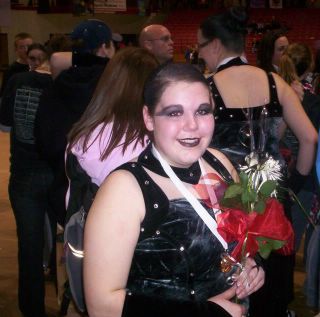 Why we call her Guard Girl.

posted by Angie @ 6:55 PM


Saturday, March 26, 2005
Apparently, I am John Candy
Who'd a thunk? Jeez, I couldn't have been at least a female character?? Ok, so this isn't an update, but I haven't done a silly quiz in a while and I thought I'd share my Candy-ness.



You are Buck Russell (from Uncle Buck)! Your
relationships aren't the greatest (mostly by
your own accord), but if anyone has a huge
heart, it's you.


Which John Hughes Character Are You?
brought to you by Quizilla
posted by Angie @ 2:16 PM


Thursday, March 24, 2005
Coming soon!
Coming soon to a blog near you. (This one.) An Update! :)
posted by Angie @ 5:20 AM


Friday, March 18, 2005
Happy Birthday, Little Big!
Today, Little Big (AKA Bubby) is 2 years old! My baby isn't much of a baby anymore. More later.
posted by Angie @ 4:37 PM


Wednesday, March 16, 2005
Welcome to King's Island!
Don't you think the "group songs" on American Idol are so cheesy and sooo amusement park?? All 12 just sang a song together and it pretty much sounded like...crap.

Even worse are the cheesy commercials for Ford. Ugh.

Seacrest, out.
posted by Angie @ 9:07 PM


A whole lotta nuthin'
So, this time 2 years ago I was big and pregnant. BIG. LARGE. I was also only 2 days away from a scheduled c-section. We didn't know if it was going to be a boy or a girl. We were about to become a family of 5! It seems like yesterday and it seems like a lifetime ago. Time truly flies.

>Warning< American Idol chatter to follow. Who watched?? What'd ya think? My favorites for the night were Scott Savol and Nadia Turner. I don't care for Bo all that much, but he did well. I am hoping Mikalah, Lindsey or Anthony go tonight. Did anyone notice the make-up makeover they did on Mikalah? She looked 100% better! I LOVE Nadia's hair. It looks great on her. I was glad that Bo didn't wear BROWN. Although Constantine looked like he actually bathed and might have washed his hair, his outfit sucked! Carrie Underwood is just adorable. Nikko, who I am sooo glad is back, looked sharp as usual. Scott looked good in his outfit as well. He looks good in his glasses but I think he should grow his hair just a bit. Do you know what ticks me off about the judges?? Randy and Paula...oh spineless ones...they have no problem saying "that wasn't your best, it didn't work for me" but the minute Simon says that was "dreadful" they get all over him and act like he is crazy. The judges comments portion of the show is torture to sit through. Some of the performances sometimes are, too!

The Amazing Race was GREAT last night!! Rob and Amber are kicking butt! Rob is so smart and everybody thinks he's stupid with that bah-ston accent. It's a great set of teams this time.

That's all for now, I think.
posted by Angie @ 7:36 PM


Monday, March 14, 2005
He Ain't Heavy....He's My Brudder
Here are the little ones goofing off this evening.



Bubby and Tater Tot

posted by Angie @ 7:40 PM


Sunday, March 13, 2005
I got your Gotti right here
Who has watched "Growing Up Gotti" on A&E? It's sort of like a car wreck that you HAVE to look at and can't look away. The basic premise is that it is a "reality" show about Victoria Gotti (daughter of former mob boss, John Gotti) and her 3 (spoiled brat) sons and friends and cohorts and people who just come and hang around her house. She has bad hair, bad plastic surgery, wears white ALL THE TIME, and is totally clueless while her boys walk all over her and keep her snowed as to just how non-angelic they really are. My favorite "friend" is Luigi. He is hilarious. He speaks english with a HEAVY Italian accent and he is just too funny to describe. He is pretty much Victoria's handy man but he isn't very handy. Recently, he was given the duty of trying to get rid of some Canadian Geese that had started hanging around the property and pooping all over the place. He was also supposed to clean the poop. You haven't laughed until you've heard him say "That's a lot of goose poop, boy." Trust me, it's funny. The boys (Carmine, John and Frank) speak english, I think. However, sub titles are used quite often as they speak. The boys are dark and pretty good looking. BUT. The HAIR. THE HAIR! Who told them that slathering a ton of hair gel into their hair and then spiking it straight backward is a good look??? Huh?? Tell me! This is what it looks like.



Gotti



Now look at MY gotti down below...Little Big after his bath this morning. The hair looks remarkably like those Gotti boys. Ay, don't mess wit da family!!
posted by Angie @ 2:53 PM


Saturday, March 12, 2005
Saturday...in the guard...
Well, today is another Saturday that will be spent watching Winter Guard. Prelims are today and our guard is seeded 1st going into the competition. No pressure on Guard Girl or anything. Me and my sister Nursey and my niece are driving to Mooresville to watch. It's probably at least an hour and half away. Bubba-ump and the kids are staying home. We can't wear out our babysitters (grandma and grandpa!)before state finals next week, don't ya know.

Because I have been writing about silly stuff lately, I am trying to make an effort to write something more worthwhile so I won't sound so immature and couch-potato-like. So many times I am reading my favorite blogs and think, "Yeah! What she/he said!" But then I can't really write about the same thing because then I would have to give credit for the idea to who I just read and that would mean REMEMBERING who I just read and frankly, that is just too much work. I get ideas in my head at work. You know, the "I am so going to blog this/that" kind of idea. And because I am not so smart and efficient to actually write the idea down, I get home and ready to blog and my mind is blank. Sounds-of-crickets blank. So now, I am planning to get all serious and write some good stuff. Today, that is not going to happen.

Today, I have to say that I don't want to see or hear one more thing about Michael Jackson! Please, just get the trial over with and sentence him to seclusion for the rest of his life so we don't have to lay eyes on him again. That guy scares me.

Rosie O'Donnell has a blog. I probably would have liked it back when she was funny and nice in public, but now that she has turned into...well, however you would describe her, I just don't care for her much. Click her name if you are curious.

There is stress at the Ficken Chingers Ranch. Long story.

I am still fat. However, we are putting together a sort of Biggest Loser at work. Only without the workout nazis. Our job is very conducive to growing a big fat ass. Vending machines. Sitting at a computer all day. Many people ordering out every day for lunch. Anyway, our Biggest Loser involves money and about 3 1/2 months of better eating and exercise. I'll let you know the details and who wins.

Ok, it is time to go get in the shower. My sister will be here to pick me up at 10.
posted by Angie @ 7:58 AM


Wednesday, March 09, 2005
The Final 12
Well, Ryan Seacrest is just in his element tonight dragging it all out and trying to make the suspense unbearable. Yeah, whatever. Just tell us and spare us the drama, please. So far I am surprised that Lindsey Cardinale made it. Both the "rockers" made it, too. Anthony Federov is a little bit of a surprise. I don't think his voice is strong enough to make it very much farther.
Ok, back from commercial.
Anwar and Jessica made it. That leaves 2 spots. One girl, one guy. Personally I hope Scott or Nikko and if I HAVE to choose another girl, Mikalah, I guess. Even though she gets on my nerves.
Ok, here goes...

The final 2 are...

Scott Savol and Mikalah Gordon.

Finally.
posted by Angie @ 9:15 PM


AI/AR
So...who watched American Idol last night? The girls bore me to tears. Give me the guys singing any day. But, the best overall, I thought, was Jessica Sierra singing "Boys Are Back In Town", or whatever the title is. She did really great! Simon made fun of her outfit, but that is typical Simon. Mikalah Gordon, AKA the Nanny, sounded awful. A very bad song choice for her. Nadia, Vonzell and Carrie did fairly well, also. I think Janay and maybe Amanda Avila or Lindsey Cardinale should go this week. We'll see tonight.

I'm loving Amazing Race this season. My favorite couple? Boston Rob and Amber!(I can't stop calling him Boston Rob) I know, I know, they already won a reality show, but I don't care. I love them. Something will probably happen and they won't win, but so far they are kicking butt and making everyone else hate them!

Have I mentioned that I am a tv/reality show junkie? Perhaps you picked up on that.
posted by Angie @ 6:44 AM


Tuesday, March 08, 2005
U toucha da flipper*, you die
*flipper=what the f.chingers house calls the remote control

Well, I was thinking the other day about what movies I HAVE to watch when I am flipping channels and happen across. Want to see my list? Do ya?? In no particular order....

Die Hard (especially and usually the first one. yippee kye ay...)
Dying Young
Sixteen Candles
Shawshank Redemption
The Breakfast Club
Sleeping With the Enemy

To name a few...

Perhaps I watch these because they get played over and over and over on cable! :)

So what do you stop on as you flip channels? Let me know...

Edited to add:Steel Magnolias! How could I forget? Scully reminded me.
posted by Angie @ 5:42 PM


Monday, March 07, 2005
Just another manic monday
Those Bangles..they were so...profound.

Anyway, how did the weekend go for everyone? Saturday we spent the day watching high school winter guard performances, including Guard Girl's. Our guard placed first in their class! Woo hoo! This weekend will be prelims and the following week will be state finals. One of these days I'll get a photo posted so you can see why we call her guard girl. Didn't get home until close to midnight on Saturday. Spent the day Sunday working on laundry and doing little else.

Oh, oh...saturday night was when I had the SHAMROCK SHAKE that rocked! I haven't had one in YEARS and when we went into McDonalds and I saw it on the sign...how one little green minty milkshake could make me so happy...I really, really, need a life.

I was a little miffed that Desperate Housewives wasn't on last night, once again. But who watched American Idol tonight? Anwar Robinson kicked boo-tay! His best yet. Nikko Smith did very well tonight, too. I think Travis Tucker and Anthony Federov should be the ones to go on Wednesday.

I had other, more substantial stuff to talk about tongiht, but for the life of me, I can't remember what it was. Maybe tomorrow.
posted by Angie @ 10:47 PM


Sunday, March 06, 2005
MMM...shamrocks
Shamrock shakes ROCK!!

That is all.
posted by Angie @ 11:02 PM


Thursday, March 03, 2005
Oh, Hootie, what have you become?
Ok, have you all seen the Burger King commercial for the chedder bacon ranch or whatever with HOOTIE(yes, I know, his name is Darius Rucker) dressed in an interesting glittery cowboy ensemble complete with hat playing the guitar and singing that god-awful jingle?? Oh. My. Goodness. All I can say is they either paid him a HUGE amount of moolah or he was DESPERATE! Or both.
posted by Angie @ 6:05 PM


The iPod blues
I want a new iPod *neer neer neer neer*
but they cost so much dough *neer neer neer neer*
tried to win one on the radio *neer neer neer neer*
was I caller 20? No, no, no no *neer neer neer neer*

Cause I got the blues...the I want a new iPod blues....


Bubba-ump says "Don't worry, baby, I'll get you an iPod."
I say, "Yeah, right."
Bubba-ump says, "It may be a Wal-mart Pod that holds 20 songs though."

Did I mention? He's a fricken riot.
posted by Angie @ 12:12 AM


That girl gots to go
Ok, that Janay chick needs to go on American Idol. America?? Hello??? Do not vote for her. (Is that mean? Oh well.)
posted by Angie @ 12:10 AM