Wednesday, August 31, 2005
2 out of 3 ain't bad
So, I called 2 out of three of the bottom 3 for Rockstar tonight. I'm smart like that. I knew it was wishful thinking when I said Suzie would be in the bottom 3. But Jordis?? Come on! However, I think she did great on her INXS song, which for the life of me, I can't think of which one it was. Underwhelming per the INXS guy...whatever. His opinion is sooo wrong! ;) Anyway, Ty was a good choice to go home. He just doesn't fit the band. JD is a complete ass and needs to be booted ASAP. He is nothing but a suck-up and a bully.

I think I have a girl crush on Jordis. Oh...did I say that out loud??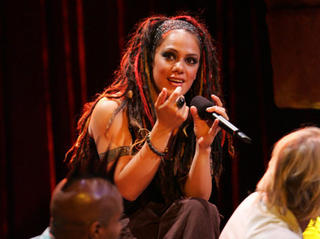 News on the Bubba front. It is NOT a disk. I repeat, it is NOT a disk!! Woo hoo! Now the doctor he had to see today thinks it is just some sort of muscle injury. He has to go to physical therapy and he is on anti-inflammatory drugs and muscle relaxers for night time. He's still off work for now. He goes back to the doctor in 2 weeks.

I have to mention the hurricane devastation because I haven't yet, and I don't want you all to think I am insensitive. I am, in fact, very upset about it. I have spent a lot of time watching news reports and crying for all those people who have lost their homes, their loved ones and their lives as they knew them. I can't imagine how they feel and what they are going through. I don't have a link here, but please, donate if you can to the Red Cross or another charity which will help the people in New Orleans and Mississippi.

One more thought on Katrina and the aftermath. Looters. It sickens me how non-chalant they are walking out of stores with big screen tvs (hello? No house? Where are you going to put it??) and 15 pairs of Nikes. I just sit here and get so mad! A natural disaster does NOT entitle you to anything you want from any store. Just STOP! I can better understand looting for water or food or formula for your baby, but tvs and such. Uh uh. Nope. No argument will sway me on that one.

I'm off to see what's going on with the BB6 live feeds, then I am going to bed.
Or I might battle my blog a while.

Oh, wait..I'm not done with the Katrina thing. The ones who want to now start talking shit about President Bush and how he is handling the tragedy and what he is or isn't doing?? Just shut the hell up! This is NOT political! The president will do what he can, but first the situation must be assessed. Just stop! And next? To the ones grumbling and complaining about, "well, now let's see if the countries that we help will help us..blah blah blah..." WTF? Yeah, let's call up Africa and see if they want to send us some of their food. Oh wait. That's right, people are starving over there, so they have no food to send. Money?? Yeah. Whatever. We've been helping Iraq. How about we just call them up and ask for a little some'n some'n? Uh huh. Sure. This is just slightly different than a freakin' terrorist attack. Just STOP! Actually, I think NASA planned this, using the space shuttle to secretly stir up the weather to cause a HUGE hurricane that would devastate thousands and thousands of people...and cause the gas prices to SOAR!!! Yeah, that's it.
posted by Angie @ 11:36 PM